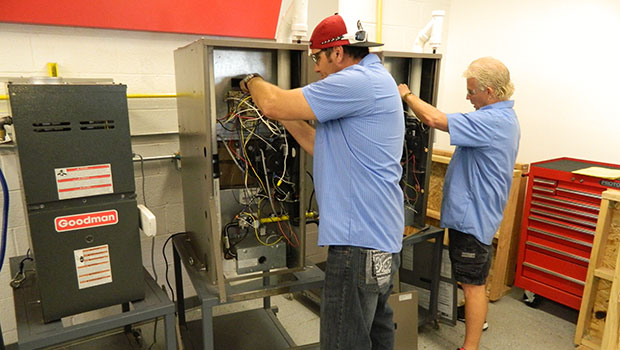 Professional Las Vegas Heating Contractor -

Repairs and Service
When you need prompt and experienced Las Vegas heating contractor for repairs or service, call in the experts at Air Doctor. We've been servicing, fixing, replacing and installing heating systems and furnaces in greater Las Vegas since 1992. We haven't had a single complaint in 20 years. Now that's a track record you can trust!
We've built our outstanding Las Vegas heating service reputation by outshining the competition in every respect. We're tops in diagnosing and solving heater problems. We deliver clean, efficient and effective electric and gas heater repair work. We treat you, your family and your home with the utmost respect and the impeccable courtesy we know you deserve.
Top-Notch Heating Repair in Las Vegas, NV
At Air Doctor, we are an expert Las Vegas heating contractor for service and repair for all types, sizes and brands of heaters and furnaces. Air Doctor charges by the job, not the hour. We'll discuss every heating repair option with you in advance and then we'll give you a fair and detailed written estimate of all proposed work. Our promise to you? If you're not 100 percent satisfied with our Las Vegas heating repair work, we'll redo the job promptly and free of charge!
Warning Signs Of Heater System Malfunction
If your Las Vegas heating system has any of these problems, call Air Doctor, the top heating contractor in Las Vegas for immediate first-aid. The sooner you deal with problems, the longer your heating system will last and the better it will run.
The longer you allow your heating system to operate in a defective state, the more damage it will suffer from harmful wear and tear of parts. By dealing with heating problems as they arise, you can avoid costly and inconvenient home heating breakdowns later on.
Are your power bills increasing every month, or have they suddenly gotten higher? A heating system that isn't working properly will cost more to operate.
Have you noticed cold pockets in your home, or that some rooms seem warmer than others? If your home is no longer receiving an even distribution of heat, your heating system probably needs adjustment or repair work.
Has your heating system become noisy? If the system has recently started to make more noise than usual or if it has always been noisy, it probably needs examination and repair.
Furnace Replacement & Installation
When it's time to replace a broken furnace or to upgrade to a more reliable, energy-efficient and safer heating unit, call the Air Doctor for a free consultation. We'll help you find a new heating system that delivers maximum comfort at a very affordable price.
With our cutting-edge technologies, we can easily determine the size and type of heating system that will deliver efficient and economical heating throughout your home. Air Doctor heating systems are made by the top manufacturers and come with extended warranties that give up to ten years of coverage.
Our capable technicians will work quickly and efficiently to get your new furnace installation done right the first time. We'll get you back in your comfort zone and we won't disrupt your life!
Energy-Efficient Heating System Upgrades
Do you know that most Las Vegas heating systems gobble more than 50 percent of a home's total energy usage? By replacing an older, inefficient heating system with a new energy-saving model, you can cut your monthly power bill by up to 33 percent!
Call Air Doctor for a free consultation anywhere in greater Las Vegas and discover how upgrading to an energy-efficient heating system can save you big bucks every year.
Annual Furnace Maintenance
To ensure optimal performance, reliable operation and maximum safety, furnaces and heating systems need regular professional maintenance every year. Even new heating systems that work perfectly need regular maintenance.
When your system is new, an annual check-up is a preventative measure that keeps it in tip-top condition and functioning effectively. With older heating units, yearly maintenance can screen for potential problems and allow you to get them fixed before they can damage the entire system.
Annual furnace maintenance by a Las Vegas HVAC contractor will keep your system running at peak efficiency, save on energy bills, catch and repair small problems before they become serious, and greatly extend the life of your heater. Air Doctor's Total Comfort Tune-Up checks your heating system for any needed repairs or adjustments, delivers a thorough cleaning and concludes with an all-points safety check.
Prompt Las Vegas Heating Repair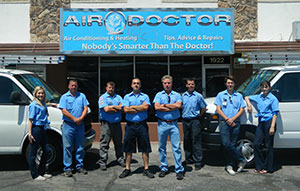 At Air Doctor, we know that Las Vegas heater breakdowns can occur at any time. When you need emergency heater repair work, we're here for you around the clock. Call the Air Doctor technicians at any time of day or night and we'll rush over to get your life back on track. We're a fast, reliable and honest Las Vegas furnace repair service. Best of all, we're always on the job!
No matter what kind of heating equipment you have or what the problem seems to be, regardless of how old your heating system is or who installed it, Air Doctor's emergency crew has the talent, knowledge, experience and expertise to take care of it. We'll quickly diagnose the problem, and then we'll do everything in our power to promptly restore your heat without making you wait around for a resolution.
Call Air Doctor for furnace maintenance, heater repair and heating system replacement anywhere in Las Vegas, North Las Vegas, Summerlin, Anthem, Green Valley, The Lakes, Henderson, Blue Diamond or Centennial. The premier Las Vegas heating contractor is ready to roll 24/7 and we're only a phone call away!